How to Choose a Professional
Carpet and Upholstery Cleaner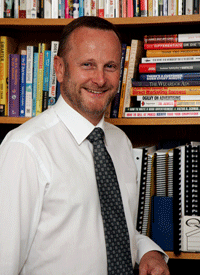 David Coker, cleaning carpets & upholstery since 1985

Dear Homeowner,
Choosing a carpet cleaner isn't easy.
Why? Because you're bombarded with misleading advertising, confusing claims and simply bad information.
From super-low prices and high-pressure sales to unqualified technicians and near-worthless methods, how do you ever find a qualified, competent, professional carpet cleaner?
You start by reading this information. You'll discover how to avoid three carpet-cleaning frauds, six mistakes to avoid when choosing a carpet cleaner, and three steps to a fresh, clean, healthy carpet.
I wrote this guide to help you better understand carpet cleaning. Now, with this information, you can make an informed, intelligent decision.
And if you have any questions about carpet or upholstery cleaning, you're invited to call me on (01424) 722900. I've dedicated my business to educating consumers. I'll be happy to help you in every way.

Carpet Cleaners are Costing Unsuspecting Homeowners Hundreds of Pounds
You have probably heard about rip-off carpet cleaners scamming unsuspecting homeowners for outrageous amounts of money. They offer cheap cleaning services in their adverts, but once they arrive in your home, it's a different story. By the time they are finished adding up the bill, it could easily come to hundreds of pounds. If you don't fall for their bait and switch technique and insist on the advertised price, you will get very poor workmanship using little or no cleaning agents. And rest assured, you will NOT be happy with the results.
You will watch as one or maybe all of these nightmares happen in your home.
1. They will explain that the quoted price was only meant for cleaning some type of carpet that you don't have. Or the price only included basic water cleaning and you need the more expensive cleaning.
2. The advertised price was only for lightly soiled carpets and your carpets are heavily soiled and you therefore need a different process.
3. They may do an unauthorized demonstration of an add-on service which will leave a clean area in the middle of your floor, forcing you to have the entire carpet cleaned using this high priced method.
4. They will subject to high pressure selling for work costing many times the advertised price. You hand over many hundreds of pounds. By the time they have left, you're glad that's all they've taken.
This is how the bait-and-switch type of carpet cleaner takes advantage of unsuspecting homeowners. They advertise one price or service and then switch to another higher priced service.
Now you know the two types of carpet cleaners to watch out for: the low priced company that gives poor service and workmanship, and the bait-and-switch company that will rip you off.
So how do you find a quality cleaning company?
Here's how…by asking these four questions you will be sure that you are working with a quality ethical and competent company.

The 4 Critical Questions to ask a Carpet Cleaner BEFORE You Invite Them Into Your Home
1. Do you have any formal training? (this is very important, and it must be NCCA or similar. (The NCCA is the National Carpet Cleaners Association). This certification means that the technician has been through extensive training and testing, and gives you peace of mind to know that you will be working with an ethical and qualified professional.
2. What does your price quotation include? Many times a company will insist on giving you a quote over the phone, but once they arrive in your home, the price is much higher. How can a company know what it will cost to effectively do a job without knowing what it entails? You need to insist on a complete written carpet evaluation before any work begins.
3. Can I see your references? If a cleaning company has been in business for any period of time and they do quality work, they should be able to provide you with references from their satisfied clients.
4. Do you offer a money-back guarantee? If the answer to this question is anything other than a resounding YES, you may be in for problems. Why should you do business with a company that won't guarantee their work?

By asking these four questions, you will know whether you are dealing with an honest, ethical company or not. If you don't feel comfortable with the answers you receive, DO NOT hire that company. Find a company that can answer these questions to your satisfaction.

6 Costly Misconceptions About Carpet Cleaning
MISCONCEPTION NO 1: You should wait as long as possible before cleaning your carpet. No. Dirt is an abrasive – like sandpaper. Every time you step on your carpet, you grind dirt into the carpet fibres. This cuts your carpet , just as if you had used a knife. This cutting causes your carpet to wear out faster. A dirty carpet will not last as long as a clean carpet. And while vacuuming helps, it's simply not enough. The longer you wait to have your carpet cleaned, the more damage you do to your carpet and the faster it wears out.
MISCONCEPTION NO 2: The only reason to clean carpets is to remove the dirt. No. As you probably know, outdoor air contains pollens, fungus, bacteria, air pollution, cigarette smoke, car exhaust – and hundreds of other chemicals. When you come into your home, you carry those pollens, bacteria and chemicals in your hair and on your skin, clothing and shoes. Not surprisingly, all those chemicals and toxins wind up in your carpet.
If you have allergies, asthma, or other breathing problems &‐ one major source of your problem could be the pollens, fungus, smoke and other chemicals in your carpet.
MISCONCEPTION NO 3: One method of carpet cleaning is as good as another. No. The dry cleaning methods – which are dry foam, dry chemicals and dry compound – do not rinse your carpet in any way. Instead, they leave a dirty residue. The most effective cleaning method is hot water extraction.
Hot water extraction means a hot water cleaning solution, under high pressure, is forced into your carpet fibres and then sucked out by powerful vacuum.
Carpet cleaners use one of two types of hot water extraction. If they use a large unit that operates from a van outside, it's called a truck-mounted extraction unit. If they use a small unit that can be brought inside, it's called portable extraction. Truck-mounted extraction cleans much better because it uses much greater pressure to force the cleaning solution into the fibres. Then the machine uses high suction to draw the dirt and pollutants out of your carpet.
MISCONCEPTION NO 4: Having the right equipment is all a company needs to clean your carpets properly. Not true. Many companies own hot-water cleaners but very few teach their employees how to use them properly. This is why you should choose your carpet cleaner carefully. The best cleaning companies are those that have been certified by the National Carpet Cleaner's Association or other professional body. Before you choose a carpet cleaner, ask to see written proof of the companys certification. If they don't have it – don't use them!
MISCONCEPTION NO 5: Hire the company that offers the lowest price. No. I've seen so many problems arise from the lowest price companies that I suggest you NEVER hire the company that quotes the cheapest price. The two most common problems are:
1. The price may not be for the service you expect. You may get a method of cleaning that does not clean effectively.
2. The price you see advertised may not be the price you pay. Many homeowners have learned that the low price they saw advertised lasted only until the carpet cleaner got into their home. Then they were pressured into paying a lot more for a variety of add-ons.


MISCONCEPTION NO 6: Any honest carpet cleaning company should be able to give you an exact quotation over the telephone. I wish this was true, but it isn't. Honest, reputable carpet cleaning companies hardly ever price carpet cleaning by the room. Instead, carpet cleaning is usually priced by the square foot. So if you'd like me to tell you the exact cost of cleaning your carpet, I need to know the exact number of square feet that you want cleaned.
Which Method Cleans Best?
Dry Foam: Shampoo is applied to your carpet, allowed to dry, and then, without rinsing, sucks the dried shampoo into a vacuum. Can you imagine applying shampoo to your hair, allowing it to dry and then removing the shampoo from your head with a vacuum? This method leaves dirty residue in your carpet, which is one reason dry foam is not too effective.
Absorbent Pad (Bonnet Cleaning): This method is similar to dry foam, except that the carpet is 'buffed' with a large cotton pad and floor polishing buffer machine. The rotating motion causes the cotton pad to absorb dirt from your carpet. This method is also called bonnet cleaning. Bonnet cleaning is like trying to use a large cotton towel or mop to rub the dirt out of your carpet. It's not very effective.
Dry, Absorbent Powder: The dry compound method spreads a moist, absorbent powder through the carpet. The powder is allowed to dry and then sucked into a vacuum. This method leaves dry sponge particles at the base of the carpet yarn. Because the carpet is not rinsed, this method is not very effective.
Hot Water Extraction: This is a fancy way of saying that a hot cleaning solution under high pressure is forced into your carpet and then sucked out almost immediately.
In a recent technical bulletin, Shaw Industries, the world's largest carpet manufacturer, "recommends the hot water extraction system, which research indicates provides the best capability for cleaning."
You can choose from two different types: Truck-mounted extraction, with a large powerful machine in a van, or portable extraction with a small hand-held unit.
On which type to choose, Shaw's Technical Bulletin states: "(cleaning) can be done from a truck mounted unit outside the facility with only the hose and wand brought inside, or where a truck mounted unit cannot reach, by a portable, self-contained system brought into the facility".
As you can see, Shaw recommends the truck-mounted unit first. And this isn't surprising. A truck-mounted unit cleans much better because it uses much higher cleaning solution pressure, and then produces huge vacuum volume to draw the dirt and pollutants out of your carpet. There's no question about it, the most effective way to clean carpeting is with a truck-mounted hot water extraction unit.

6 Mistakes To Avoid When Choosing A Carpet Cleaner
MISTAKE NO 1: Choosing a carpet cleaner based on low price. Low price could be a problem in three ways:
(1) Low price can be the 'bait' that attracts your phone call. But once the cleaner gets into your home, he pressures you into a much more expensive job.
(2) Low price can be for a single-process cleaning. Rarely does the consumer know what this means, and when told, asks for dual-process cleaning instead, which costs much more.
(3) Low price means the carpet cleaner has inferior equipment, which will not effectively clean your carpet.
MISTAKE NO 2: Choosing a carpet cleaner based on a single telephone call. Instead, invite the person to your home and ask for a specific written quotation. Then you'll know exactly what the carpet cleaner recommends – and you won't be the victim of high-pressure tactics when the technician steps into your living room.
MISTAKE NO 3: Choosing a carpet cleaner who doesn't offer a money-back guarantee. Every carpet-cleaning company should be accountable for its work. And if you aren't pleased with the job in every way, you shouldn't have to pay for it. Not all carpet cleaners offer a guarantee. Or if they do, the guarantee may be "limited". Ask the carpet cleaner if he offers a money-back guarantee and then make sure he includes his guarantee on his written quotation.
MISTAKE NO 4: Choosing a carpet cleaner without getting comments from his other clients. Any carpet cleaner can say anything about his past jobs. And sadly, some of what he says may not be true. Make sure you ask for references or read comments from current customers so you can depend on the carpet cleaner and his work.
MISTAKE NO 5: Choosing a carpet cleaner who isn't certified by the National Carpet Cleaners Association. If your carpet cleaner isn't a close friend, you may not know whether he has the knowledge or experience to clean your carpet well. If you want to be sure you're hiring a competent professional, make sure he is NCCA certified. The carpet cleaner must earn that certification through study and successful completion of formal, written examinations. In effect, cleaners who are certified by the NCCA have earned a college degree in carpet cleaning.
MISTAKE NO 6: Choosing a carpet cleaner who doesn't use a truck-mounted, hot water extraction system. There are several good reasons for saying this. Portable hot water systems are good, but they aren't as good as truck-mounted systems. Truck-mounted systems are the 'Rolls Royce' of carpet cleaners. Compared with portable hot water systems, truck-mounts use higher pressure and stronger suction, and the pollutants are taken completely out of the building thereby greatly improving indoor air quality. So all the way round, you get a much better job.

You Will Receive All of This With My Carpet Cleaning:
You get my 100% iron clad, risk-free money-back guarantee. That is exactly what I mean when I say "The Most Thorough Cleaning Ever or It's FREE". I will never let anyone pay me if they do not feel that they have received the absolute best service and value for their money.

You get certified cleaning technicians. This means that my technicians and I have had extensive training and education in cleaning techniques, cleaning agents and fibres. This ensures that you will receive superior cleaning.

You get the most thorough cleaning ever. My company only uses state-of-the-art equipment and high quality cleaning products. We refuse to use low end cheap inferior products.

You get an exact appointment. None of this "I'll be there between nine am and five pm". You'll get an appointment within a one-hour arrival window. And if we're ever late, we'll call ahead to let you know.

You get prompt response. I usually have an opening within one week.

You get utmost attention to detail. I take the time to thoroughly clean your carpets. I will not rush through your cleaning in order to get to the next job.

You get continued customer service. Should you decide to become one of my valued clients, I will keep a client file for you. And if you have any queries regarding the maintenance of your carpets or upholstery you can feel free to phone my office and I'll do our best to help.

Our Unique 15-Step Process Ensures You're Delighted With What We Do For You
If you want the best clean ever you must use a carpet cleaner who performs the following steps – or you're simply wasting your money!
This is what you get with Clean Image:
Confirmation. Your appointment is confirmed in writing – so you can be sure we're coming!
Pre-Grooming. First we groom the carpet with a special rake to break the 'dry' soil away from the fibres.

High-Filtration Vacuum. Then we vacuum with a commercial grade high filtration cleaning system. This step is very important as 79% of soil in a carpet is 'dry' and will vacuum out.

We Move Small Furnishings. We will move small furnishings ‐ such as chairs and tables ‐ but for insurance reasons we ask you to move smaller valuable items like ornaments before we arrive.

We use 'Corner Guards'. These protect your walls and paintwork from any damage.

Pre-Spot Difficult Stains. We pre-spot your carpet for all difficult stains, that is we carry out specialist stain removal techniques on stains which are of particular concern to you – or that we know will be difficult to remove using non-specialist techniques.

Heavy-Duty Pre-Spray. Next we apply a heavy-duty pre-spray specially designed to lift oily dirt and pollutants from your carpet fibres and suspend them ready to be quickly and safely extracted using our state-of-the-art vehicle-mounted extraction machines.

Pre-Grooming. A professional carpet groomer (brush) is used to further loosen the soil ready for extraction.

Rinse. Now for the very effective (and expensive) machine we use to thoroughly clean and rinse your carpets without overwetting or leaving a sticky residue behind. The van-mounted, high pressure hot water extraction units we use clean much better because they heat water to a high temperature and then shoots the cleaning solution into the carpet at high pressure. This helps to break up the dirt, bacteria and pollens in the carpet. The machine then produces a huge vacuum volume to draw the dirt and cleaning solution out of your carpet. This is the only method of cleaning recommended by the world's largest carpet manufacturer, Shaw Industries. Unfortunately (for us!) the machines are very expensive – over £37,000 for a fully kitted up unit!

Rotary Jet Extraction. For deep soil removal we use a rotating 'steam chamber' that washes 1500 times every minute and lifts carpet pile beautifully.

Protective Foil Tabs. Furniture is replaced back onto the carpet with protective foil tabs and foam blocks under the legs. Why? Well sometimes the moisture left in the carpet will leach out any colour-stain finish from the furniture leaving a (very difficult to remove) stain on the carpet.

Post Grooming. Finally, where appropriate we groom your carpet to leave it in best possible condition. This usually means that we run a grooming rake over the carpet to ensure the fibres are as tangle-free and 'fluffy' as possible.

Rapid Dry System. We use special dryers to ensure quick drying of your carpets, so you can use your carpets quicker.

Post Cleaning Inspection. We will walk you through your home to show you the cleaning results to make sure you are thrilled.

Report Card. Finally, you will be left with a satisfaction report card to be sent back to us (complete with stamp) – we want to be absolutely sure you're happy!
We can also apply a protector, to resist permanent staining and help to keep carpets cleaner for longer. The protector we use is Promite™ which as well as resisting soil and stains also kills dust mites (ask for our demonstration or a free booklet on Promite™).
100% No-Risk Iron Clad Money Back Guarantee. What does this mean? Simply this: If you're not totally happy with our work, we'll re-clean the area for free. If you're still not satisfied – I'll give you your money back.
Most carpet cleaners only carry out 3 of these steps!

Here's What Some of My 4689 Customers Have to Say
Comments from our Report Cards since 1985
"I should not be amazed because I know your work but I am. I cannot believe the difference and the colour restoration in my mother's front bedroom –like a brand new carpet! Excellent service – don't ever change!"
Mrs L. Oakwood Close, Hastings
"Your attitude is totally professional. I do not hesitate to recommend you"
Mrs M. Wickham Ave, Bexhill
"I consider this a first class service and very well satisfied"
Mrs F. Tollgates, Battle
"We were very impressed…stains on a bedroom carpet which were not removed by a previous cleaner have disappeared completely"
Mr B. Parkstone Rd, Hastings
"My carpets were awful and they now look like new"
Mrs C. Mount Rd, Hastings
"Miracles!! Performed, could not be more pleased with results and service"
Mr & Mrs D. Greenways, Bexhill
"My carpet had some very difficult stains, ie: red wine & dog vomit, but these have been completely removed, my carpet looks as good as new"
Mrs C. Darwell Close, Robertsbridge
"I was particularly pleased with the softness of the carpet afterwards"
Mrs B. Emmanuel Rd, Hastings
"Suite & carpet came up like new. An excellent finish"
Mrs C. Madeira Drive, St Leonards-on-Sea
Call (01424) 722900 to schedule your appointment. You have absolutely no risk.
Kind regards,

David Coker
P.S. If you thought all carpet cleaning services were the same, take a closer look, and let me show you what the Clean Image experience is all about. You have nothing to risk except dirty carpets and an unhealthy home. You can call me personally on (01424) 722900.